Findel and Ferdinand powering potential in the Northwest
April 2023
Findel has teamed up via their Findel Foundation with the Rio Ferdinand Foundation, a national charity for youth and community development, to launch a new 'Communities' programme.
Starting in April, the Communities programme will be rolled out across Manchester, Tameside, Oldham, and Salford. Offering young people from Greater Manchester an exciting and progressive three-year programme bursting with skills development opportunities in sport, music, digital, media and technology.
The new Communities programme targets the priorities and needs of our diverse communities, leading positive change for young people in Greater Manchester and throughout the Northwest.
In addition to uniting communities through sport, music and the arts, the programme provides creative accredited training for 100+ young people per year to boost their CVs and raise their aspirations to achieve.
This latest partnership showcases the synergy between the Findel Foundation, formed in 2022 and the Rio Ferdinand Foundation. Both organisations have shared roots in Manchester and a focus on leading positive social change to power young people's potential.
Latest statistics show that compared to the rest of England, growing up in Greater Manchester can be more challenging, with 32,000 more children living in poverty than the national average. This programme supports the Greater Manchester Combined Authority (GMCA) and NHS 'Taking Charge' plan to not only improve health and well-being, but also the collective vision for young people to grow up inspired to exceed expectations.
Sarah Power, Enterprise Coordinator from the GMCA, who has worked closely with Findel over the past 3 years, said "The GMCA Careers Hub is working to support and help prepare young people to actively participate and thrive in the economy. 
Findel has worked collaboratively with GMCA Careers Hub, engaging with a number of schools in Greater Manchester to give young people a line of sight into their future.
They have organised many informative and engaging workplace safaris which give young people the chance to experience a real workplace and support young people to make more informed choices about their future pathway and career.
The work that Findel is doing is inspiring and can have a huge impact on prospects of young people – 'A young person who has four or more meaningful encounters with an employer is 86% less likely to be unemployed or not in education or training and can earn up to 22% more during their career.' This is an incredibly exciting partnership and can't wait to see the progress made across Greater Manchester."
Supported by Findel colleagues, the programme will give participants access to various personal and social development workshops to build their skills and confidence, including CV writing, mock interviews, and workplace safaris. The Community's programme is the first step in the Findel Foundation's ambition to provide work experiences to 2000+ children and young people by April 2026.
The programme also takes learning from the 2022 Rio Ferdinand Foundation digital skills programme, which was delivered in Oldham in partnership with the Department for Education and through its extensive partner network that includes Warner Music, the Jockey Club and Kiss FM. It will provide progression opportunities and pathways for marginalised and underrepresented young people into a range of industries, with a keen focus on females in STEM as well as sports.
On the partnership announcement, Claire Woolley, Head of Findel Foundation said:
"We are incredibly excited about our partnership with the Rio Ferdinand Foundation, right from our initial conversation it was clear that there were so many synergies between both of our ambitions and overall objectives.
"The Communities programme will allow us to support children and young people in and around Greater Manchester to help raise their future career aspirations as well as promoting their health and wellbeing.
"Since we launched the Findel Foundation in November 2022, we have already had some amazing success stories where we've positively impacted children and young people through our volunteering and careers programmes and the partnership with Rio Ferdinand Foundation will allow us to further develop our reach across the Northwest and beyond."
Gary Stannett, CEO at Rio Ferdinand Foundation added:
"I am pleased to announce our new partnership with Findel – a company based in Greater Manchester that works in education, using their staff, expertise, and resources to support young people to improve their education and life chances. I am looking forward to seeing this partnership develop and the impact we know it will have on young people participating in the project. That it's a three-year commitment to young people demonstrates the value both partners have put on this relationship, and a huge thanks to the team at Findel for putting these opportunities together.
You can read more about the Rio Ferdinand Foundation here, and you can find out about the Findel Foundation's aims here.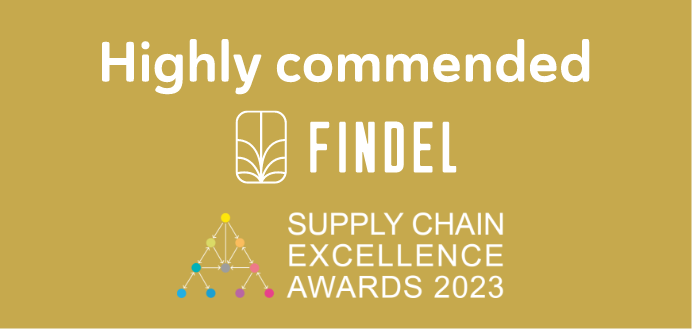 On 9th November 2023, Findel achieved a special recognition at the Supply Chain Excellence Awards.
read more